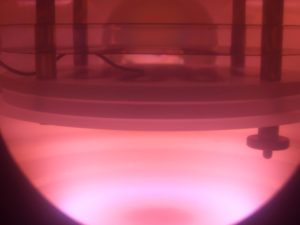 We custom-make plasma application equipment and ion beam equipment with reasonable budget. We will carefully support you until the development goal is reached.
[Example of development]
  – Sputtering film forming equipment for compound thin film.
  – Ion beam etching equipment.
  – Various plasma CVD / etching equipment.
  – PVD coating equipment and high speed evaporation source.
  – Hole inside surface coating equipment.
  – Neutral Radical Processing equipment.
  – Concentrated high flux ion beam processing equipment.
  – Ultra low energy large current ion beam irradiation equipment.
  – General purpose vacuum test stand, and others.